A stitch in time…
Importance of efficient logistics to apparels & textiles
The city of Surat is closely associated with textiles. In fact, statistics suggest that around 90% of polyester used in India comes from a number of small and medium manufacturers in Surat. Another common example is the small town of Tirupur in Tamil Nadu which reportedly contributes to 90% of the total cotton knitwear exports from India. These locations form a vital component of the apparel supply chain domestically and demonstrate how logistics connectivity is the fabric of these seemingly unorganized clusters catering to domestic as well as international demand for quality garments.
The net worth of the Indian textile industry is at a superlative $108 billion, with a net contribution of 14 per cent of industrial production and 4 per cent of the country's GDP. Part of the growth in the past decade is attributable to seamless logistics which makes markets accessible to predominantly small and medium units.
Torn between the thread and thump of organised and unorganised sectors, wherein the former's share has grown rapidly with an estimated 8.7% compound annual growth rate since 2009, there is still a major chunk of the pie that remains reserved by the unorganised market players.
Nearly 30 million meters of raw fabric and 25 million meters of processed fabric are produced in Surat daily. There are around 60,000 traders and 160 markets associated with the Federation of Surat Textile Traders Association (FOSTTA). The regional ecosystem has been positive, with the reported GDP growth of 11.5 per cent over the last five years, which is one of the fastest in the country. However, challenges exist with the rising cost of power and labour, which consequently raises the cost of production. Moreover, demand for fabrics from Surat has drastically reduced following dumping of the cheap imported fabrics from China.
In the light of such instances and the recent developments related to GST across various clusters around the country, there is a substantial gap that is filled in by distributing channels that foster growth by taking millions of yards of fabrics to the space it belongs; after all it's a win-win situation of corporate textile and apparel giants and such textile firms to be connected through the right channel.
Growing foreign investments and 100% FDI to the benefit of the exporters have been an added bait to witness a rise in the organised set-up. Another factor that has channelized the Indian textile market to an organised gradient is the introduction of GST to the Indian sub-continent. GST has acted as a much needed catalyst in moving the sector towards a refined approach and has helped it manoeuvring through the most efficient ways of distribution and supply chain.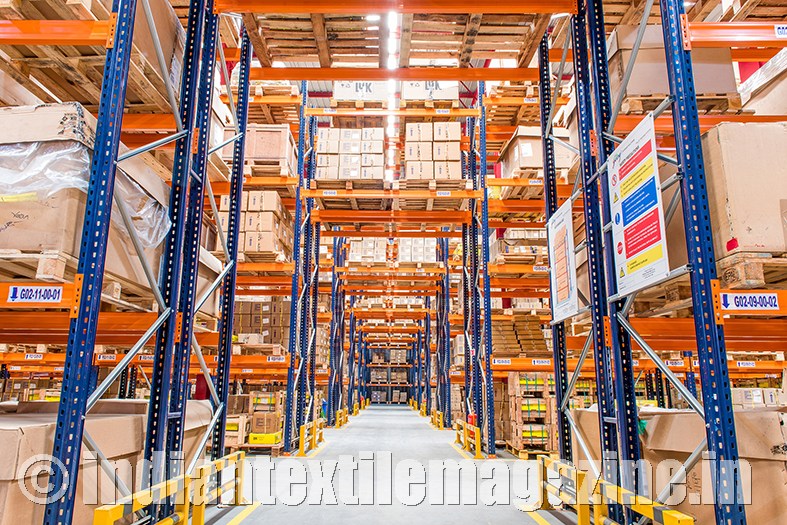 Prominence of an effective supply chain model
There are various reasons for choosing a sophisticated distribution channel rather than just increased security and timely receipt of shipments. Sustainable investment in intelligent distribution can come in different ways. Today textile and apparel companies look at organized players providing end-to-end supply chain solutions for a holistic service provision. For instance, Gati for some of the well-established apparel brands extends services from Express Distribution to warehousing, inventory forecasting, management and even fulfilment services, thereby helping them reach across various segments of the market, be it traditional, digital or just through a single partner!
Right from the onset of the digital era and the evolution of start-ups, the role played by the logistics industry in the textile scape has expanded by 10%. This number includes big and small players alike. With every apparel company setting its base online, logistics has to tackle the ultimate question – "How does the product ultimately reach customers much faster, the ever expanding network catering to omni-channel requirement in today's fast changing consumer preferences in fashion?"
An organised vendor promises consolidation of various services, quantifiable productivity and growth and a general ease and transparency in business process.
For example, Gati has repeatedly proven to excel at being an end-to-end and well-integrated supply chain solution and express distribution provider. A sound logistics strategy is a must, whether one is going global or reaching out to the farthest of masses across the length and breadth of the country. While Gati tackles the former with its presence across Bangladesh, Nepal and other neighbouring countries, the latter is dealt with rather seamlessly as we have consistently reached over 99% of the sub-continent. International trade is covered through Gati's Freight Forwarding division and by being distinguished importers and exporters on record.
Gati assists not just in last mile, but also through the entire documentation process, be it at the senders or receivers end. It offers pan-India warehousing solutions with over 3 million square feet of technology-enabled warehousing solutions, covering pick, pack and dispatch all your shipments right from the warehouse space! And if you have volumes that can demand an entire truck load's capacity with direct movement of your defined locations, Managed Value Added Transportation Services (M-VATS – point to point bulk transport) is the solution making that possible. Also, with zero- downtime transition, Gati has impeccably, adapted the GST norms in country.
To conclude, the textile industry needs end-to-end supply chain solutions seamlessly integrated to help achieve reduced working capital & capex, reduced multiple vendor dependency, smoother end-to-end operations, improved demand forecasting ultimately all leading to a sustainable business growth. The recent expansions in the global and national trade re-emphasise the need for well-rounded service providers like Gati that cater to end-to-end supply chain and not just Express Distribution needs.
By Shridhar Upadhyay, Chief Supply Chain Officer, Gati