ArioPrint – Arioli's revolutionary digital printing machine
The Arioli Group was established in 2012 with the merger of the metalworking company Arioli S.p.A., Brazzoli S.p.A. and the Austrian MHM GmbH.
Being one step ahead, thanks to the continuous innovation research developed by 20 technicians and engineers nowadays working in the R&D department, the Arioli Group has today new products in its portfolio for each brand (Arioli, Brazzoli and MHM) and applied improvements to the existing one.
The year 2016 marked a real turning point for Arioli which placed on the market the ArioPrint-16, a roll-to-roll digital printing machine designed by Arioli's R&D team. It was presented as the fastest printer for this segment, allowing the customer to choose between multiple resolutions and combinations.
The building philosophy which has driven the ArioPrint project has always been oriented to create a machine which was able to guarantee the maximum stability and solidity, in order to achieve the best jetting precision. The result is a 4-tonne machine, with monolithic welded stainless steel, combined with an aramid fiber belt equipped with an advanced automatic system of measurement and positioning.
The two models of the machine – ArioPrint-8 and ArioPrint-16 – are scanning printers with either 8 printing heads in 2 rows or 16 printing heads in 4 rows. They incorporate 300 dpi native resolution Kyocera's KJ4B printing head which are "double channel". This means they are 16 but with two different colours in each single head.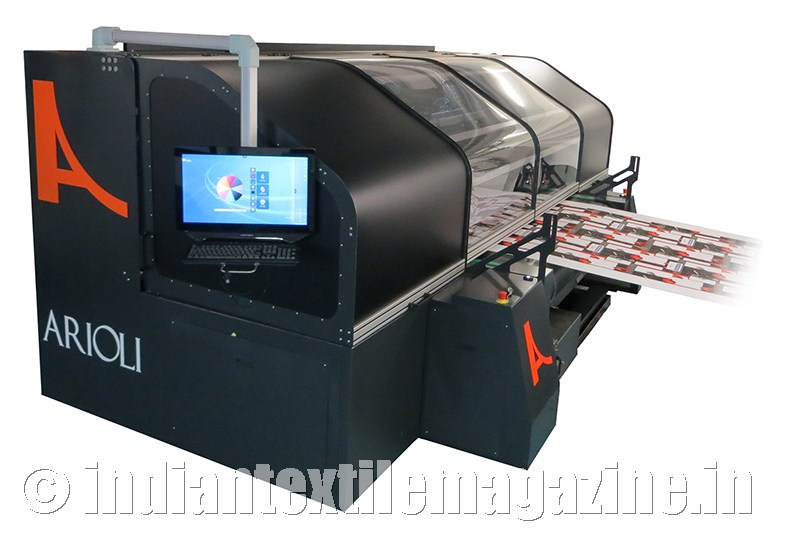 ArioPrint-16 can print from 300 x 300 dpi to 1200 x 1200 dpi. It also allows the customer to eventually choose any other possible combination (for example, 300 x 600 dpi or 600 x 900 dpi).
While all electronical configurations and hardware are Arioli's own property, the ArioPrint is equipped with an open system when it comes to inks. The customer can use all the inks approved by Kyocera and the machine can print on any kind of substrate (polyamide, silk, wool, cotton, viscose, polyester, etc.), with a range of inks, acid, reactive and disperse.
The ArioPrint can also be integrated into the group's other product lines such as its steamers, washers and dryers.
The ArioPrint was displayed at FESPA 2017 in Hamburg in May last when the company also displayed its iQ-Digital, the new digital hybrid machine for the DTF industry.