Atlas Copco launches VSD compressors range with Neos inverter
Atlas Copco, specialising in compressors and air treatment systems, has launched its oil-free air ZR/ZT 75-90 Variable Speed Drive (VSD) compressor range, upgraded with the Neos inverter for compressors, guaranteeing maximum uptime and productivity.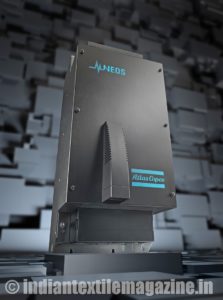 After the Neos inverter integration in the oil-injected GA screw compressors about five years ago, Atlas Copco expands the technology to the oil-free air Z compressors. The water – and air-cooled ZR/ZT 75-90 VSD range, now available with the Neos inverter, allows a wider working range in two pressure variants: 8.6 bar and 10.4 bar.
For almost 20 years, Atlas Copco qualifies VSD drives for compressor applications and experienced from the field that traditional drives suffer in compressor applications from dust, humidity, over currents, etc. Neos has an IP5X protection degree. A compact, robust aluminum enclosure protects it from dust and moisture, making it suitable to operate in the harshest conditions. Atlas Copco guarantees high protection and optimized cooling.
Neos has been designed in-house by Atlas Copco, specifically adapted for its compressors. This in-house design allows for an improved control over the lifecycle of the application and guarantees availability of spareparts and replacements.
Less components means Neos inverter has less impact on the environment at the end of its lifecycle. For Atlas Copco, long-term sustainability is a crucial part of innovation.