Atlas Copco organizes customer meet in Coimbatore
Atlas Copco, international leader in the development and supply of air compressor technology, conducted a customer meet with the theme "Seeing is Believing" at Coimbatore on August 23d, 2017. The meet allowed the company's customers to witness first-hand the various technologies and services that were available from Atlas Copco to sustainably support them in their business growth.
Atlas Copco, a company that has been in the Indian market for more than 55 years, offers a wide range of air compressors which includes, oil-injected screw air compressors, oil-free screw air compressors, screw blowers, scroll air compressors, tooth air compressors, piston air compressors, turbo air compressors water-injected screw air compressors, and reciprocating air compressors, among others.
Speaking on the occasion, Mr. Conrad Latham, General Manager and Head in India, Atlas Copco Compressor Technique Business, pointed out to the importance of the fast-growing Indian market for the company.
Stating that "the growth of our customers in India is like our oxygen supply", he highlighted the fact that the company has a strong presence in the Coimbatore region, considered one of the key hubs for the spinning business in India. The total capacity of Atlas Copco compressors in the Coimbatore region is 41.3 MW, while the total length of the 'AIRnet' pipe brand that the company offers across the region is 17.3km.
Going into details about the company, Mr. Latham mentioned that it currently has a team of over 200 personnel, plus a widespread dealer network to deliver its cutting-edge compressor solutions throughout the country. Adding further that the 'Make in India' initiative of the Government has been an inspiration, Mr. Latham said that Atlas Copco manufacturers its well-established 'Variable Speed Drive' compressors at its manufacturing facility located in Pune, Maharashtra.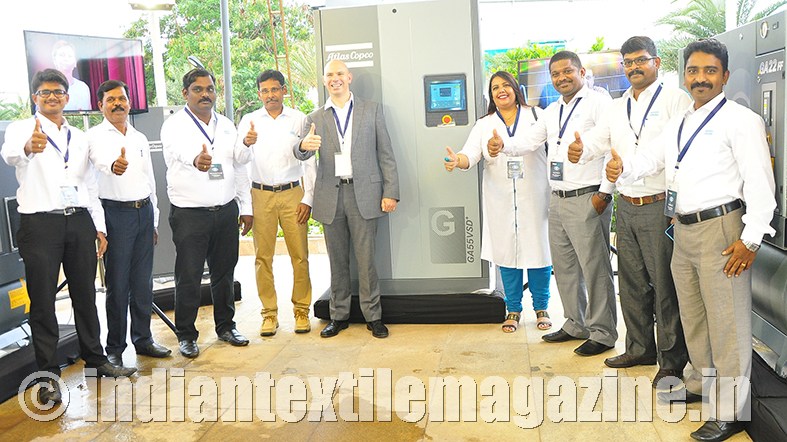 Atlas Copco has always been known for its strong R&D focus and technological innovations. Its 'Smartlink' data monitoring system has once again proven the company's prowess on these fronts. According to Mr. Latham, the technology enables monitoring of a compressed air installation at all times, therefore leading to optimal efficiency. The company has successfully completed 120000 Smart box connections globally and 7017 in India, under the initiative.
Throwing light on the company's expertise in the field of energy recovery solutions, Mr. Latham gave a few examples such as GHCL, Madurai, Saravana Spinning Mill, Madurai, and Cotton Blossom, Coimbatore, to mention only a few, that have benefitted from the installation.
By M.K. Prabhakar & Mohan Raj