Biancalani's 60 years of innovation & success
It was in 1957 that Fiorenzo Biancalani decided to open his own company for production of finishing machinery for wool fabric. The Prato district was extremely alive then. After 60 years, Fiorenzo Biancalani is still having his constant presence in the company, although from the beginning of the 1980, he approached his children, Rossano, Rossana and Massimo. They were the ones to develop the commercial network and get him out of the Prato boundaries. Orders from England, Spain, South Africa, Pakistan and India continue pouring.
Since 1985 production of machinery for dry finishing began. The year was characterized by the arrival of AIRO, a machine that, with its fabric transport in an air jet, can achieve beautiful finishings never seen before. Several times developed and redesigned to adapt to the times and requirements, in 2006 AIRO was followed by AIRO 24, which assures the same type of fabric processing, but in continuous and in open width. The machine is now used for textiles for clothing, upholstery, technical fabrics, home textiles, fake leather, etc.
"But we also launched MILLA, BRIO and BRIO 24 while other projects are under development", says Rossano Biancalani, who followed all the evolution of the markets.
How has the textile machinery makers' world changed? And the competition? He said: "When we started participating in ITMA, in 1975, there were no special machines. There were only traditional fabric finishing machines. Since then our company has always developed particular machines, and now with the experience, the constant presence and the full services for the customer satisfaction, Biancalani is an essential partner for fabric and knit finishers. In the last few years many manufacturers of terry towel (in Turkey, Portugal, Uzbekistan, Russia, Japan, Central America, Brazil, India and Pakistan) are rewarding their customers with the exclusive AIRO 24 finishing treatment, thanks to the particular design of the air path and the impact grid in that machine which allows to achieve the best terry fabric ever view until now."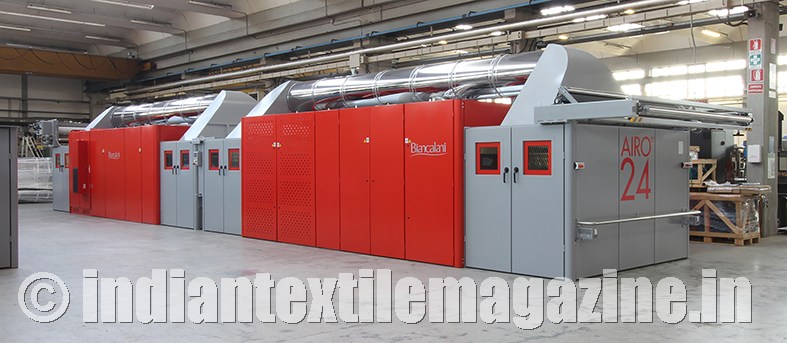 Some regret, in these 60 years? "Nobody. Just satisfaction to be still active on the market, with even more strength and organization, known and appreciated all over the world. And now many European countries are back to be interested in fabric manufacturing, from Germany to the UK, from Portugal to France. We are there, and we will continue to be there, with even more grit," he added.