Condair topping the list in humidification technology
The right humidity makes a decisive contribution in a variety of situations encountered in day-to-day life – in the business environment as well as in private premises. The importance of humidity is so significant that clear directives exist in many countries for the operation and maintenance of humidification systems. Condair is the leading manufacturer and provider of complete solutions in the areas of humidification and evaporative cooling, with a comprehensive portfolio including products, services, experience and know-how. Today, with approximately 650 employees, Condair operate production sites in Europe, North America and China, are represented in 17 counties by its own sales and service organizations and supported by distribution partners in more than 50 locations worldwide.
Mr. Dave Bull, Business Development and Applications Manager, Condair plc speaks about the company, solutions offered and its focus on the Indian textile market.
Can you provide a brief background about Condair?
Condair is the world's leading manufacturer of industrial and commercial humidification systems. It has over 650 employees worldwide, manufacturing facilities in Europe, North America and China, directly owned sales and service operations in 17 countries and distribution partners in over 50 countries.
What are the products and solutions offered by Condair?
Condair humidifiers are used in textile processing facilities around the world to maintain product weight during processing and storage, improve quality and enhance productivity by reducing the machine downtime.
The primary Condair product used in textile production facilities is the JetSpray compressed air and water spray humidifier. The ABS3 rotary atomizing humidifier is frequently used in small production areas whilst the Condair RS steam humidifier is ideal for textile testing laboratories.
The JetSpray humidifier consists of rows of precision engineered nozzles that combine compressed air and water to create fine sprays, which consistently maintain humidity levels across production and storage areas. It differs from many other "spot" humidifiers that provide humidification from a single point of delivery. The JetSpray distributes humidity evenly across an area, avoiding high and low areas of humidity within a room.
Which are the major global markets in which Condair operates?
The main regions where Condair supports the textile manufacturing industry are India, China, Bangladesh, Pakistan, Indonesia and Mexico.
Which are the key industry verticals in which Condair operates?
Alongside the textile industry, Condair also operates in sectors like tea, data centres, automotive, printing, paper, tobacco, cold storage, and heating, ventilating and air-conditioning.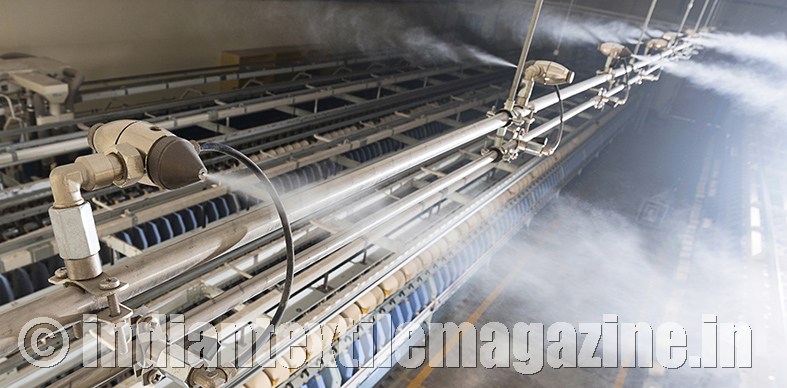 How important is the textile industry for Condair?
The textile industry is very important for Condair.
What are the solutions you offer for the textile industry?
Condair humidification systems improve profitability of textile manufacturers by preventing moisture loss from materials, and maintaining product weight and quality throughout production. As well as increasing profits by directly influencing the volume of end-product manufactured, correct humidity control also enhances product quality by improving the fibre strength. This, in turn, reduces yarn breakages and the subsequent machine downtime needed to re-thread. As well as these benefits, a cold water spray humidifier can reduce the temperature of a textile factory by several degrees Celsius and suppress airborne dust. This improves the working conditions of employees, enhancing staff productivity and improving health and safety.
Given that the humidification segment is highly competitive with solutions available across price points, why should a customer consider Condair?
Condair humidification systems are the most advanced in the world and are designed for optimal performance, low maintenance and hygienic operation. The JetSpray humidification system is simple to install, requiring no special tools. The spray nozzles are precision-engineered with an innovative self-cleaning mechanism that prevents blockages. The system is so robust in operation with the nozzles carrying a 10-year warranty.
Condair and its distribution partners have over 30 years experience in improving production efficiency and profitability in the textile market, and have many hundreds of satisfied textile customers around the world.
What about Condair's presence in India?
Condair is represented in the Indian textile industry by its local agent Regent Machine and Servicing (RMS) based in Kolkata. RMS' Managing Director is Jaydeep Dasgupta, and the company offers a full service of system design, supply, installation and after-sales service, maintenance and spares support.
Can you name some of the major customers in India, specifically in the textile industry?
Condair has installed JetSpray humidification systems into many leading textile manufacturing facilities, including RSWM Ltd., VMT Spinning Company Ltd., the Birla Group, Gloster Ltd., Ganges Jute Pvt. Ltd., Cheviot Company Ltd., East India Commercial Co. Ltd., and G R Woollens Mills.
Have you launched any new product in recent days?
Condair has research and development facilities in Switzerland, Germany and the UK, constantly developing and improving its range of humidification systems. The JetSpray humidifier has been evolving over the last 30 years to maintain its position as the leading humidifier for India's textile industry.
What are your expectations from the Indian textile industry?
The Indian textile industry has undergone significant modernization in recent years with many factories installing new high-speed machinery. This frequently requires an improvement in humidity control to maintain fibre strength in line with the machinery manufacturer's recommendations on ambient humidity levels to avoid fibre breakages at faster processing.
Heat gains can also be different across a production area when machinery is updated. This can lead to a dramatic change in the profile of the airflow and its properties across a room, causing areas of low humidity that reduce efficiency and product quality.
As the demand for improved quality rises across the Indian textile industry, so does the need for manufacturers to enhance the existing production processes and reduce waste. Investing in an advanced humidity control system can help factories achieve both these objectives. Manufacturers who have used cheap spot humidifiers which provide high outputs of moisture in a central point within a room have seen significant improvements in product weight and quality when switching to a JetSpray system. Customers who have been operating at around 80% efficiency have seen improvements to 93-97% efficiency due to reduced yarn breakage and the need for re-threading. This is largely due to the correct amount of humidity being introduced more accurately and consistently across an area, with a more even room humidity being maintained.
Lastly, health and safety needs more focus than ever before in the Indian textile industry. A well-designed humidification system can reduce airborne dust by around 60% and provide a 5°C drop in temperature. This improves staff health and maximizes worker productivity to the benefit of the organization and its employees.