Dow launches locally-made Molykote lubricants in India
Dow Performance Silicones, a global leader in silicon-based technology and innovation, recently launched a range of lubricants under the well-known Molykote umbrella. This range of five specialty lubricants, based on the heritage Dow Corning Silicones technology platform, now being manufactured in India, will cater to the growing local demand for quality and improved-efficiency materials. The Molykote lubricants have been designed and engineered to solve difficult lubrication-related problems and save energy by reducing friction and wear.
These fit-for-purpose and innovative lubricants are custom-designed to meet the needs of the Indian customers, enabling extended lubrication intervals, thus reducing maintenance costs, providing quality, efficiency and value for money.
Molykote lubricants cater to a variety of manufacturing and processing applications across industries such as sugar, textiles, automotive, oil & gas, cement and aviation, among others. From withstanding extreme pressure and heat to increasing the production cycles of heavy manufacturing equipment, the specialty lubricants optimize product as well as process cycles.
The range of Molykote products, which include mineral oil and synthetic greases, will be made available across India, offering benefits such as corrosion protection, resistance to oxidation and water wash-out, low oil evaporation and high load-carrying capacity.
Addressing the company's distributors at the launch of the India-made Molykote range, Massimo Rebolini, Commercial Director for Europe, the Middle-East, Africa and India, said: "The Molykote brand has been known and trusted across the globe for around 70 years. In India as well, Molykote enjoys an extremely strong reputation among its customers. The fact that we are now manufacturing this global brand in India is a clear indication of our commitment to the Indian customer. Our intent is to use our knowledge of the local market and our global expertise to strengthen the Molykote brand in India and continue to create long-term value for the company as well as for our customers by fulfilling their needs for innovation and efficiency."
Sharing his perspective about the Indian market, Dharmesh Shah, Commercial Manager for India, said: "As smart manufacturing technologies gain momentum, our customers' needs are evolving from commodities to customized specialty products. We continue to be committed to fulfilling these needs and to bring innovations to our Indian customers faster via best-in-class materials and technologies, newer product offerings, increased geographic reach and expanded R&D power."
For almost 70 years, customers around the world have trusted the Molykote brand for performance and expertise to solve their most demanding technical design and lubrication challenges. Molykote specialty lubricants aid assembly, enhance smooth operation with less vibrations, reduce wear and corrosion to extend equipment life, improve energy efficiency and reduce carbon emissions, control friction and noise, and extend lubrication intervals to reduce downtime and maintenance costs. More than 600 Molykote products in six product technology groups (greases, pastes, oils, compounds, dispersions and anti-friction coatings) are available through a global network of Molykote experts and channel distributors.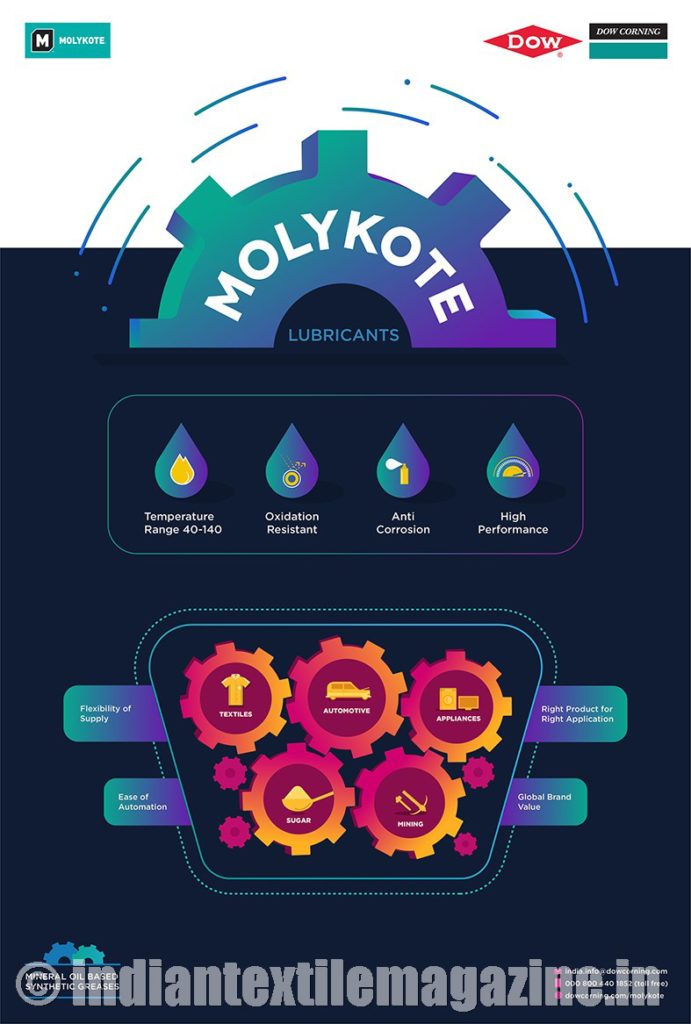 Performance Silicones, a unit within Dow's Consumer Solutions business, delivers a portfolio of performance-enhancing solutions to serve the diverse needs of customers and industries around the world. From transportation and lighting to building and construction and chemical manufacturing, Dow's Performance Silicones business helps its customers solve their most challenging problems.