LAPP's sustained leadership in cables, connection technology
Investing in India for future growth
Headquartered in Stuttgart, Germany, the Lapp Group is a leading supplier of integrated solutions and branded products in the field of cable and connection technology. The group's portfolio includes standard and highly flexible cables, industrial connectors, customized system solutions, automation technology and robotics solutions for the intelligent factory of the future.
LAPP offers an extensive range of over 40,000 high quality and durable products and solutions necessary for various industries. LAPP is indeed a one-stop shop for all cable and connectivity requirements. The company also provides the customized plug and play solutions under the brand name OLFLEX® CONNECT – from simple cable harness to a complex chain assembly.
In an interaction with The Textile Magazine, Mr. Marc Jarrault, Managing Director, Lapp Group India Pvt. Ltd., spoke in detail about the company's presence in India and more particularly on the products and solutions offered for textile machinery industry.
Indian operations
LAPP is the first international cable manufacturers to set up its office in India. During the initial years the company was a trading unit. Currently it is a 100% subsidiary of the Lapp Group. LAPP started its Indian operations in 1996 with a manufacturing unit at Jigani, Bangalore, which is the second largest manufacturing facility of the Lapp Group with a capacity to manufacture 60,000 km of multi-core cables and 78,000 km of single core wires per annum. The company has invested approximately Rs. 165 million (2.1 million Euro) for this project. The production area at Jigani was also doubled in 2014.
In 2012, Lapp Group India set up its second manufacturing facility at Pilukhedi, Bhopal, which is helping in strengthening its base in the single core wires segment as well as cater efficiently to the growing customer demand in India. It has an existing capacity of 1,000 km of single core cables daily, catering mainly to the building segment. The Bhopal facility produces 36,000 km of multi-core cables resulting in overall capacity increase of 60% in multi-core cables, in addition to the existing 216,000 km capacity in single core wires.
Lapp provides about 150,000 km per year of power, control, instrumentation and data cables along with connectors, accessories and customized cabling solutions to over 5500 customers pan India. The company customers are spread across different industry segments such as automation, textile, automotive, machine tools, oil and gas, renewable energy, process industries, as well as in the infrastructure and building sectors.
To service its customers better, LAPP currently has 23 sales offices along with five service points and five warehouses. The company also has a strong network of 180 dealers and distributors, a state-of-the-art laboratory and a full-fledged Innovation & Engineering Centre. LAPP provides tailored solutions for customer-specific applications to meet the industry challenges.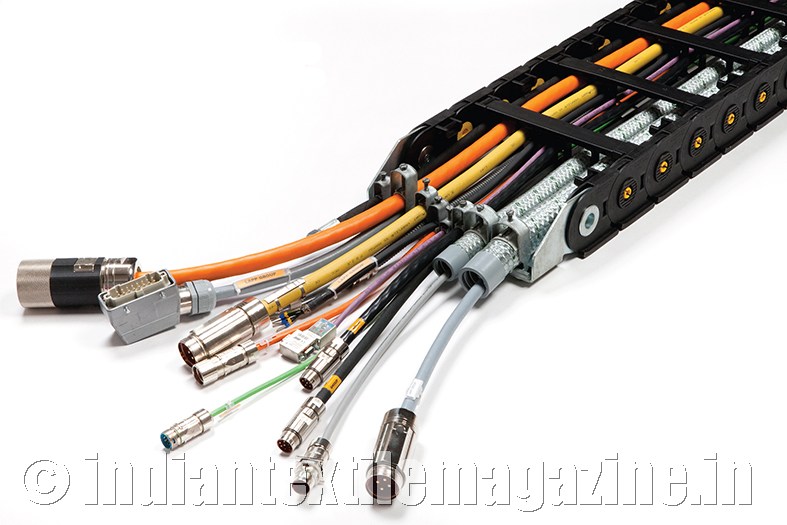 Mr. Marc Jarrault said: "In 2018, we will be celebrating 20 years of Lapp Group's presence in India. We are committed to the Indian market and foresee a huge potential as well".
Solutions for textile industry
In 1996 when LAPP started its operations in India, the textile industry was one of the two focused segments. The company has some of the reputed textile manufacturers as its oldest customers. LAPP's products are ideal designs for the textile industry that cut across the entire process from spinning to garment production. Lapp is rethinking and redefining the cable and connection technology, with focused R&D and innovation, to meet the challenges faced by the textile industry. The company's offerings go further than just cables for the power, control and data applications but also connectors, conduits, cable glands, marking systems and tools along with its OLFLEX® CONNECT customized cable assembly solution.
Mr. Marc Jarrault observed: "Lapp is synonymous with innovation and believes in developing innovative cabling products and solutions that help and assist its customers. For the textile industry, we offer tried and tested products and customized solutions used in various stages of textile processing like spinning, weaving, knitting, fabric and garments processing. Our products are designed for critical applications like continuous motion, high temperature, for chemical and other harsh environments. Lapp cables are slim and light in construction making them more flexible and can withstand high temperatures. The products are chemical/oil resistant and weather proof, with great mechanical strength".
OEMs
Lapp products are of high quality and the innovative solutions that the company offers make it a pioneer in the industry. The OLFLEX® CONNECT,customized cable assembly solutions are ideal for critical applications that enables customers to enhance productivity & efficiency in their manufacturing system. Plus, the wide range of highly durable products that LAPP offers in the field of cable and connection technology gives it a cutting edge, thus making the company a reliable solution provider.
Mr. Marc Jarrault further said: "We closely work with textile machinery manufacturers like RIETER, SAURER, LMW, KTTM, Truetschler, OTIL and others as OEM supplier.On the customer side, we have had the privilege of partnering big projects like Welspun, Morarjee, Narayan, Indigo, Bhilosa, Sanathan, Madura, Kejriwal, Alok, Indorama, Beekaylon, Shivne,Filatexto name a few".
Critical solution
The textile industry emphasizes that products being used are slim, flexible, chemical resistant, flame retardant, robust , ready to use (plug & play solutions), free from lubricants & resistant to dust.
For machines to perform consistently, lossless transmission of power and data is a key element. EMC protection is one of the important criteria for selection of cables with high current capacity, which only comes with good quality oxygen free copper conductor used in cables. Hence it is quite necessary to invest in quality and durable cables and conductors.
With the manufacturing industry moving towards automation, the textile industry too depends on automating the production process. With a slight glitch in the data transfer the process might be jeopardized, bringing production to a halt.
Lapp too ensures the products to be complying with the global standards and customize the product, looking at the requirement of the situation to safeguard the production process.
"The textile industry is steadily growing in India. There is a boost in cotton cultivation in States like Andhra Pradesh and Maharashtra. Yarn prices are coming down. Over and above, there is a great Government support to, and focus on the textile industry. All in all, we see a great demand with the textile industry for our innovative product and also the customized cabling solutions", added Mr. Marc Jarrault.
The following are a few of our products that cater to the textile industry:
OLFLEX® CONNECT: Our customized plug 'n' play solution, ranges from the simple cable assemblies to industry standard servo connections and right up to the sophisticated high-speed drag-chain systems, to help meet the exact customer requirements.
OLFLEX® CLASSIC 110 cables: These are screened PVC control cables with transparent outer sheet, designed to be flame retardant and all weather resistant.
UNITRONIC® cables: Data network cables and field bus components provide a forward-looking solution for all applications in industrial machinery and plant engineering. From transmission of simple control signals to field bus signals in complex network structures, we offer a reliable cable and connection solution.
ETHERLINE® cables: High-quality data communication systems for the ETHERNET technology. A secure, fast and reliable path to the future of ethernet applications, the cables deliver an effective solution for applications in the industrial environment.
EPIC® SMART: Industrial connecters designed and manufactured specifically for Asian markets with the promise of high performance at a cost-effective price. These connectors are waterproof and temperature resistant and can be used for the power and control applications in the textile industry.