Mouvent heralds breakthrough digital textile printer
Mouvent achieved a major milestone in November with its first-ever global trade show demonstration of its ground-breaking textile printing machine, the TX801 at ShanghaiTex 2017.
The TX801 is an 8-color multi-pass digital textile printer producing the highest print quality on textiles with up to 2,000 DPI optical resolution, associated with very high printing speeds. Central to the digital innovation of the TX801 and Mouvent's other innovative machines is the Mouvent Cluster, an ingenious digital printing technology based on a highly integrated cluster, which represents a quantum leap for the industry.
"People who witnessed the TX801 in action at ShanghaiTex were extremely impressed with its print quality," said Ghislain Segard, Marketing & Sales Manager, Textile Machines at Mouvent. "We had hundreds of visitors to the Mouvent booth and the reaction was overwhelmingly positive. We passionately believe that this machine is a huge leap forward in terms of quality, industrialization and reliability, and it was an honor to demonstrate it to such a prestigious event."
"It was a fascinating exhibition, and Mouvent certainly made a big impression," said Paul Yen, Mouvent's Head of Distribution for China. "China is such a central hub for global textile production and innovation, so it was very rewarding to be able to demonstrate the high potential of our equipment, not only in this region but for the global textile market in general."
The TX801 prints with up to 8 colors and, even though it is a scanning type machine, up to 50% of the print jobs can be completed in a single pass, boosting productivity up to 200 sqm/h without compromising on quality. In order to reach those levels of productivity, the TX801 utilizes an ingenious, very compact proprietary print engine development based on the Mouvent Cluster Technology, integrating Fujifilm's Samba print heads. This is associated with speed, precision and scalability, deploying up to 16 g/sqm of ink in a single pass.
And thanks to the Mouvent Cluster Technology, the TX801 prints with an optical resolution of up to 2,000 dpi, resulting in the very highest print quality of the finished product. The machine can process knitted, woven and non-woven textiles with a maximum fabric width of 1,820 mm with roll diameters of up to 400 mm.
The TX801 is a very durable, compact and accessible printer. The high longevity and resistance of the print heads is proven, guaranteeing an exceptionally long service life of the Mouvent Cluster. It is one of the smallest digital printers in its category, helping to boost productivity with a minimum footprint for simple implementation, very ergonomic utilization and extremely quick and efficient job changeovers, making it highly cost effective even on very short runs. It also has a very competitive price per square meter compared with basic printers, but with unrivaled print quality.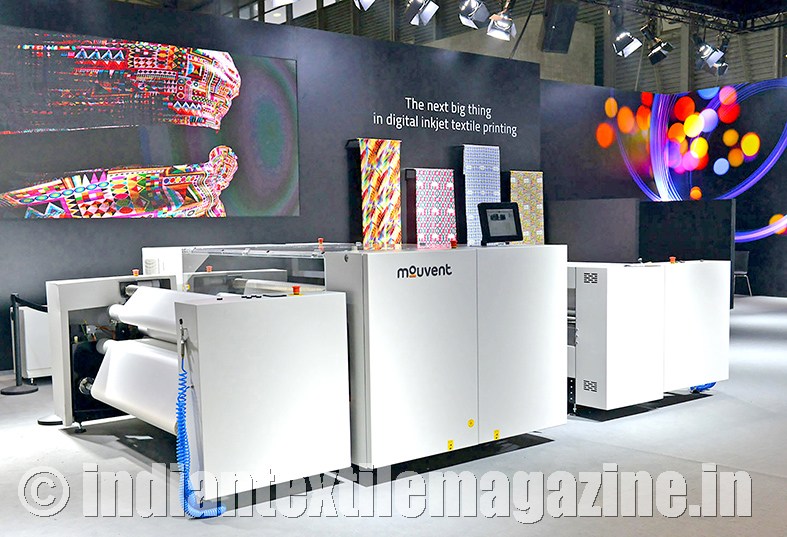 "This was a landmark moment for Mouvent," said Reto Simmen, Chief Business Officer at Mouvent. "We have announced ourselves on the global stage for digital textile printing. We are very excited about the next stage, as we start to deliver these transformative machines to partners all over the world. This is the beginning of a new phase in digital textile printing."