Stäubli – 125 years of market leadership through innovation & technology
The year 2017 marks a milestone in the history of Stäubli. For 125 years, Stäubli has coupled its passion for innovation with excellence. In its three activities – Connectors, Robotics and Textile – Stäubli is an innovation leader committed to delivering the best products, services and customized solutions. The company was founded in Switzerland in 1892 and after 125 years is still owned by the original founding family. Ingrained in this rich tradition is the promise of reliability, consistency and stability.
Today, Stäubli is an international provider of innovative mechatronic solutions in the areas of connector systems (both electrical and fluid), robots, and textile machines. The company is active in 29 countries with over 4,500 employees and a sales and service network in 50 countries. India has traditionally been a very important market for Stäubli. The company has been a partner in progress for Indian textile companies.
We spoke to Mr. Fritz LEGLER, Head of PM/Marketing, Sales & Customer Service at Staubli on the 125 year journey of the company and its future plans.
We would like to start with the history of the Stäubli Group? Can you provide a glimpse into the rich heritage of the company?
In the late 19th century (1892), the textile industry had its heyday. Stäubli, based in Switzerland, became an important supplier in the weaving trade with its focus on dobbies. Hermann Stäubli acquired his know-how first by repairing imported machines. Soon he learned and set himself the goal of producing a superior product. His demand: highest quality and a pronounced customer focus. He wanted no less than to construct the best dobbies, with which weaving mills would achieve optimal results. Even at that time, Stäubli had high requirements with regard to an efficient production, i.e., to be able to produce more fabrics at lower cost, with better quality and with a greater variety of patterns. Already in 1893, "Schelling & Stäubli" delivered their first self-constructed and designed dobby. In 1900, a further development resulting in the first paper card dobby followed, which was also equipped with a warp leasing system still widely used today. Following the death of Rudolph Schelling in 1909, the company was renamed Stäubli. After decades as a technological pioneer and reliable partner of the weaving industry, Stäubli expanded its expertise as of 1956 into quick-connection solutions.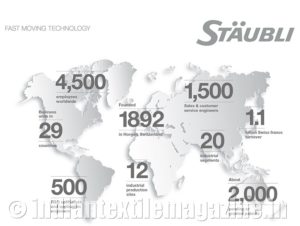 With the start of production of connectors, the Stäubli family took the far-reaching decision to extend its competencies into additional fields of activity, laying the cornerstone of the company as it is today. Ever since, Stäubli has been looking for possibilities to develop future-oriented technologies, to further simplify the industrial processes of customers, and enhance their safety. Therefore, it was only consistent to enhance the Stäubli portfolio with electrical connectors in 2002.
As part of diversification another step was taken in 1982 when Stäubli started its collaboration with the US robotics pioneer Unimation. With the acquisition of Unimation in 1989 the foundation was laid for the Stäubli division Robotics, which today is one of the world's leading players in industrial robotics and automation.
Currently what is the product range offered by the Stäubli Group?
Today the Stäubli Group is a leading industrial partner for high-quality mechatronic solutions and technologies in four divisions – Electrical and Fluid Connectors, Robotics (SCARA and 6-axis robots, as well as collaborative robots) and Textile.
Which are the key global markets for Stäubli for its various product segments?
Since 1892, the Stäubli Group has grown substantially, both technologically and geographically. In 1909 it built its first production unit outside Switzerland in France, followed by additional production sites in other European countries as well as in the Americas and China. Today the group has 12 production units, with business units in 29 countries, including India and Vietnam.
What is the real driving force behind the success of Stäubli over the years?
"A spirit of innovation defines our company since the beginning, it is rooted deeply in the growth of Stäubli", says Rolf Strebel (CEO). "It is the reason why we constantly develop new solutions which add value for our customers. Also the spirit of cohesion amongst our staff around the globe, the curiosity and the awareness about the philosophy of continuous improvement are decisive for our long-term success. This is our motivation to improve on a human, professional and technical level to be just as successful in the next 125 years".
Since how long has Stäubli been in the Indian market?
The import of Stäubli textile machinery into India began in 1947. In 1993, Stäubli established its own Indian subsidiary, which became a private limited company in 2009. With this important step Stäubli underlined that the company does not only deliver machines but ensures their optimal availability by providing maintenance services, consultation and technical support, and supply of original spareparts for an extended period of time.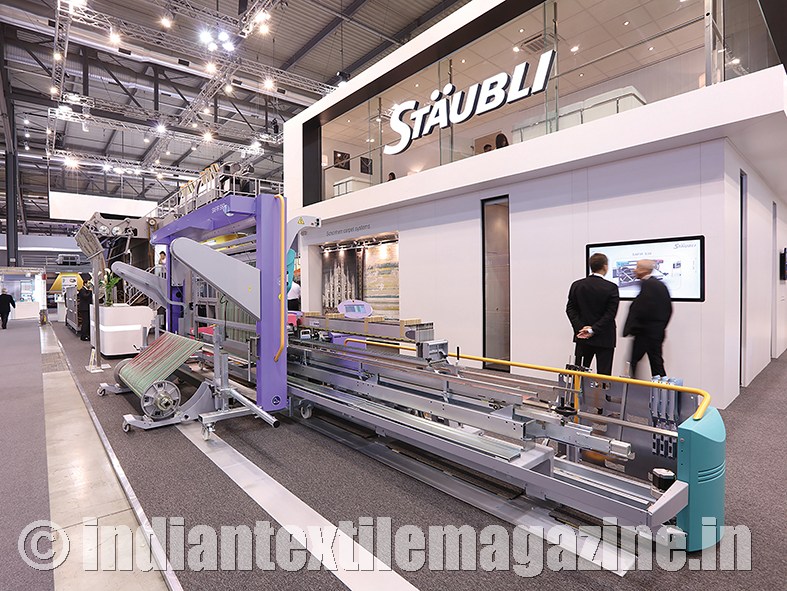 What are the products and solutions offered by Stäubli for customers in India?
Stäubli offers its complete portfolio in India. In terms of textile machinery this means that we cover every woven application with our weaving preparation solutions, i.e., automatic drawing-in and warp tying or leasing machines, shed forming systems such as cam motions, dobbies and Jacquard machines. It goes without saying that we also offer our automation solutions for sock knitting, and complete weaving systems for carpets and technical textiles.
How has the growth been for Stäubli over the years?
Since commencement of operation many decades ago, there has been a swift growth for our company in India. There is hardly any weaving company in India which does not have some Stäubli equipment in use. There is a growing shift towards automation due to lack of personnel or the need for even better quality, productivity and competitiveness. India needs to invest at a higher pace. That is where Stäubli comes in as a reliable partner ready with investment propositions.
Currently there are more than 30 experts active in the Indian market for textile machinery, ranging from administration, machinery sales, after-sales and spareparts services. A group of 40 employees in charge of Robotics and Connectors are localized in the same building in Mumbai.
What are your expectations from the Indian market?
We would expect an even faster growth of the textile industry in India. At the same time, we are concerned that the Government initiatives related to promoting activities could lead towards interventions (red tape) which slow down investment decisions of small to medium (SME) weavers. The current ATUF proceedings are an example of a retarding process for local companies respectively make the order processing much harder for machinery suppliers from abroad. Moreover, we think that Indian weavers do not profit in the same way as competitors outside India profiting from e.g., Textile FTA's with Europe, the US or others. Having said this, India obviously profits from a huge home market with increasing affluence which will bring about further local demand for Textiles products.
Will Stäubli consider further investing and expanding its operations in India?
It is our clear vision and strategy to grow our business in line with the Indian market. As soon as India will exploit its full potential, Stäubli will be adopting its set-up in Mumbai and across the country if and when required. We keep our fingers crossed that India will be able to further strengthen textile exports in the same way it does its domestic textile activities. For instance, the fact that India has become the second biggest denim consumer globally which will push domestic production in one way or another.
Can you highlight Stäubli recent innovations?
Recent highlights are for sure the dobby S3000/S3200 series with the unique locking principle for more security during the high-speed weaving process. The LX/LXL Jacquard series with their further developed kinematics for even more precise running or the SAFIR Series for an automated drawing-in process with highly technological features such as optical detection of each yarn.
Active Warp Control functions (AWC) on SAFIR drawing-in machines have been further refined to e.g., properly detect S or Z twisted cotton, wool or filament yarns on warp beams when automatically drawing-in weaver beams. This has vastly improved the quality control in weaving and reduced manual interventions. Denim weavers, for instance, make profit by using our SAFIR S40 with AWC, thus avoiding double ends even using different yarn counts or yarn characteristics (slub yarns) on same beams.
What can we expect from Stäubli in the coming years?
The success of our customers is what makes us tick! There is no more delight than getting repeat orders from the existing customers or gaining new customers – growing our business together with them! This is really what drives us on. With fast moving technology, literally as also figuratively, we want to remain at the forefront of innovation in the true sense of the word. Our history has proven us right and we intend to do so going forward. We herewith invite our existing or prospective customers to push us on.
You and our customers can certainly expect further developments in areas such as automation, easy handling, even longer service lives and less energy consumption. We want to ensure an optimum productivity to our customers with a minimum environmental footprint.
At 125, what are the fresh targets that Stäubli has set for itself to propel its next phase of growth?
It goes without saying that the family, the Executive Board as well as the Executive Management Teams of all Production & Business units have formulated a clear strategic intent to further grow our businesses in all divisions. We have 4,500 employees and a corporate turnover in excess of CHF 1.1 billion per year.
If it comes to innovation and technology, we will continue to assure highest quality & precision, high-speed operation and utmost flexibility for any kind of application executed with our systems and solutions.
Whatever the application, from simple plain weaves to the most sophisticated Jacquard or technical fabrics, such as multilayers with various thickness profiles, Stäubli offers a large portfolio and will expand it in accordance with the requirements generated by future trends and needs of our customers. The group just grew further with a new business unit set up in Vietnam. This shows that Stäubli always cares about serving customers to the extent possible.
How does it feel to look back at this long and successful journey so far?
It is honorable (and this is as to how it feels) to any Manager of Stäubli to be involved in celebrating a major milestone and at the same time in shaping the future together with a great workforce around the globe to become even more customer-focused and solution-driven. Innovation in mechatronics has brought us so far – it will help us achieve our future goals. We gain new customers on a daily basis who instill the spirit to keep on improving, coming up with new ideas and satisfying our partners around the globe. We are ready to set the goals for the next 125 years!
Please have a look at Stäubli special website: https://125years.staubli.com/en/story-of-staeubli/