Supima Cotton – The king among fibers
It goes without saying that in apparel, as well as in home fashion, quality begins with the fiber. It takes a premium fiber to make a luxury product. Supima, often known as the "Cashmere of Cotton" is a special extra-long staple fiber grown in the US, known for its softness, strength, brilliance and lasting colors. Supima cotton is a key ingredient in manufacturing premium and luxury goods, and Indian textile mills have led from the front as they are the top consumers of ELS cotton with more than a one-third share.
In an exclusive interaction, Mr. Marc Lewkowitz, President and CEO, Supima, provided detailed insights on what makes Supima cotton stand out from the rest, its presence in the Indian market, success stories in India, new product development initiatives from partners and his message for the Indian customers.
Here are the edited excerpts:
The interaction began with Mr. Lewkowitz sharing his "India connect", saying that he has been coming to the country regularly for over 12 years now. He said he was deeply touched by the appreciation that cotton has among the people of India and always thought there is an opportunity for Supima to be working with top brands and retailers in the country to share stories about making premier quality cotton products that are long lasting and durable, that customers will be able to appreciate and enjoy.
What makes Supima stand out?
Responding to a question as to why should someone go in for Supima cotton when so many other types were already available in India, Mr. Lewkowitz replied: "India definitely produces wonderful cotton. ELS cotton here is used for great fabrics. However, India produces a very limited quantity of real ELS cotton – about 1,000 bales annually. This year the estimated production of Supima cotton is 727,000 bales. This means that there is a larger year-round supply to pick from.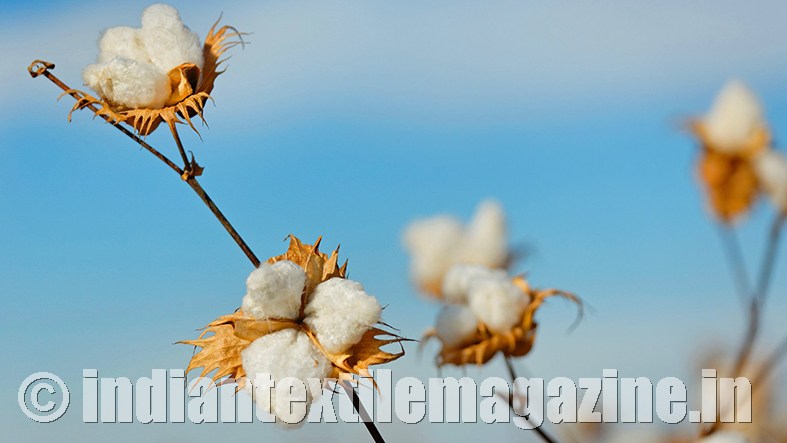 Secondly, Supima is considered to be contamination free. That's why it is used by lots of mills for whites. White sheeting, for example. That's a really critical component as there is a difference between machine picking versus hand picking and is a key differentiator between Supima cotton and others."
The consistency of quality that Supima offers in terms of high uniformity, length, etc., and the fact that Supima enables mills to pick out what quality or variety they are looking for, offering in a way a process to customize the ELS cotton, which is unique, is another advantage. These values are intrinsic with regard to the fiber and the Supima brand, which makes it unique in the market place. Supima is a perfect example of what a product differentiator would be. Customers benefit from Supima's characteristics and come back again and again.
Partnership with Raymond and Arvind
Supima has had some fabulously successful relationships with leading brands across the world. What about the Indian market? Do they have similar success stories to share?
Citing an example from the Indian market, Mr. Lewkowitz pointed to the relationship with Raymond and Arvind. "I am really impressed by the fabrics that they are making for the ready-to-stitch market. It's exciting to see them tell a story to the customer. Typically, we know most suits are made of wool. They have introduced some great Supima alternatives, with the cotton benefits of breathability, and these cotton suit fabrics are perfect fits for the environmental conditions of this country."

Pointing out to some other similar partnerships Mr. Lewkowitz said: "We are working with some top international brands like Marks & Spencer, that are already in the Indian market. Similarly, Brooks Brothers is another one of the top constituent partners. In fact, they are celebrating their 200th anniversary next year, something that is remarkable and impressive for an iconic brand to continue to be a fashion influencer of over two centuries. It is not often that we can celebrate that kind of a milestone, and Supima is excited to be working with Brooks Brothers to highlight this event and celebrate our partnership."
Traceability technologies
"Traceability" is a term that is being increasingly heard across the Indian market. When queried on the traceability technology that is being adopted by Supima, Mr. Lewkowitz observed that there are different types of technologies that have been proposed in the market place. "Supima began by looking at traceability and verification options through DNA and, with our original partner, quickly able to determine a differentiation between ELS and Upland cotton which could easily identify cheating by blending in cheaper/inferior quality cottons. That science has since evolved and matured and now also provides an optional exogenous DNA marker program which gets applied at the gin level and is being used exclusively by one partner and merchant.
Another merchant has adopted another technology to trace the origin of their cotton by using trace elements from the soil, water, air and the environment in general that are picked up by the cotton, and all of which are unique to a growing region, and utilizing that data for verification. There is another offering that involves using a phosphorus marker as well as a couple of other technologies that are in very preliminary stages yet. The market is demonstrating the creativity and adaptability to an ever-changing marketplace and the demands of the customer."
New product development
According to Mr. Lewkowitz while Supima doesn't do R&D on its own, it does seek partners in terms of new development of working with Supima fibers to create unique products.
Going into some examples, he said: "One of those is 'Solucel' which is a yarn that is based around a unique PVA type of microfilament, which is finer than the traditional PVA. It has been developed using a technology based on a patent obtained in China by a university. One of the interesting things about the new PVA is that it is 99% recyclable and recoverable, which is incredible."
"The Solucel yarn is a hollow core. This hollow core yarn has been implemented by a few of our brand partners in a variety of products. Based on tests it has been shown that it has exceeded performance characteristics with thermal regulation and moisture management that have been usually associated with synthetics. It is amazing to have new developments with cotton and a fiber that hasn't really changed, but with creative ideas and new technologies can be reimagined into new performance applications. We have another technology based on a modified weaving technique that creates a separate texture on the underside of the woven fabric, which helps with moisture removal. The technology is called 'Smartweave'. It is basically targeted at shirting fabrics. It helps tackle tropical climates or high-stress situations. That's another great instance of Supima cotton fabric being reinvented to function differently."
Citing another example, Mr. Lewkowitz said:" Then there is another really unique work being done by Fung Fat, a knit wear-based company based out of Hong Kong. What they do is take 5% conductive filament, which is then knit along with the Supima yarn right into the knit garments. It is just like any other garment. It's washable, dryable, etc. The unique thing is that it can be connected to battery just like those that you use to recharge your mobile phones. You can just plug in and warm your jacket, using this kind of a technology."
Continuing further with examples of new product developments, he said: "Then there is 'Celliant', which is a fabric that can be blended in cotton and that is FDA-approved in the US which helps to improve and enhance circulation on the surface of the skin. It's a medical facilitating fabric that took more than 7 years to get approved. These are the kind of products that's allow cotton to evolve into wonderful products."
So, what's next for Supima? Elaborating on the future plans, Mr. Lewkowitz remarked: "We are always on the look-out for those things that we are yet to discover. There's nothing definitive that we can talk about at this point in time, but we are actively engaged in trying to find new technologies and ideas. We are always engaged in finding new partnerships and industry segment opportunities that allow us to present a high-quality product with a story that connects to the consumers. This helps us to educate them and provide them a positive and rewarding experience with something called Supima."
Answering critics of cotton
Cotton has of late been subjected to a lot of criticism from the sustainability point of view. Giving his take on the issue, Mr. Lewkowitz felt much was unfair or predicated on facts that were not accurate. In his reply to the question he said: "There's a constant evolution of agriculture. It has not remained same. Sustainability is a much-layered term. There's reduction in usage of resources, improving efficiency in farming, greater output, ability to be economically viable, so on and so forth. Now consider all this with cotton.
As a fabric, cotton has a history dating back to some 7,000 years. Cotton cultivation has been going on all these years and we are still able to have considerable cotton production, and today it is still important and needed. But we need to strive to keep advancing technologies and new practices that enable cotton to perform even better. "
Adding further, the CEO of Supima pointed out: "A lot of information on the social media space that is playing out need not necessarily be correct. Plus remember the fact that cotton cultivation varies from region to region. So, there is no singular definitive line you can draw. But you do need to talk about a constant improvement process where everyone in the supply chain is looking to improve, minimize resources and maximize output, while maintaining healthy practices, environmentally, culturally and socially."
Message to Indian customers
When asked as to what would be his message to the Indian customers, Mr. Lewkowitz said: "At the end of the day, our biggest message is "we are here to help". We are here to work with our partners to create wonderful products, to tell the story, to engage the customer base such that they can become more informed and educated consumers."
"The beauty of wearing a cotton garment or sleeping on cotton sheets, or in using cotton towels these are things that are intrinsically innate in our history of how we live our lives. When we look at all the potential competitive fibers, we need to look as to where they are coming from, and if we are pumping oil to create synthetic yarn, that's not a good process to do either," he observed.
Mr. Lewkowitz also pointed out that while Supima may have come a long way, the team there is not sitting idle basking in its laurels but is striving to move forward. "That's the biggest message, in that our cotton is not the cotton of the past but the cotton of the future," he said on a parting note.