Teejay targets $300 million turnover by 2020
Expanding capacity in India and Sri Lanka
The Sri Lanka-based Teejay offers complete solutions in dyeing, finishing, printing and lace dyeing, together with knit solutions in cotton, cotton blends and synthetic solutions. Its market positioning and ability to offer the complete solutions equip it with a comparative advantage across the industry and provides an excellent platform to reach new horizons and its goal to be a $300 million company by 2020. Teejay's top-line continued its upward trajectory during 2016-17 with total revenue increasing by 24% year-on-year to touch Rs. 22.1 billion.
Teejay has made two strategic acquisitions, namely, Ocean India Private Ltd. (OCI) and Quenby Lanka Prints Pvt. Ltd. OCI, which is now Teejay India, is a knitted fabric manufacturer located in Visakhapatnam. Quenby Lanka is Sri Lanka's leading fabric printer located in close proximity to Teejay's main manufacturing plant. The printing technology and know-how will enable the company to widen its customer base in the years ahead.
Currently, half of the Sri Lankan cotton fabric requirement is imported. Similarly, almost the entire synthetic requirement is imported. This underlies the opportunity that Teejay seeks to tap into, through its local supply chain solution. The company took a significant step by starting production of synthetic fabric during the year, a product which offers tremendous potential to capture new markets and obtain higher margins.
Teejay has launched the $15 million capacity expansion project at Teejay India. In phase I of the project the company added 9 tons to its current capacity and in phase II an additional 10 tons. This project, is anticipated to increase capacity for the dyeing and knitting segments of Teejay India's operations.
Teejay has also invested Rs. 108 million in a state-of-the-art digital printer for Teejay Prints, opening up new vistas for growth through prints.
Sri Lanka continues struggling with good long-term energy options. While the debates continue, it is expected that Sri Lanka's coal-based energy consumption will double to over 40% and even exceed that of hydro within the next two decades. Teejay Lanka has already invested in one of the most advanced coal-powered plants and is well poised to ride that wave.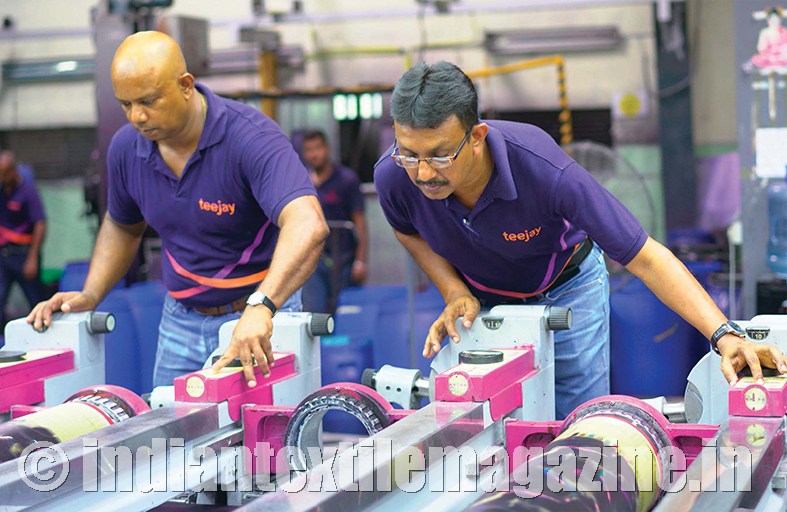 Enhancing the environment friendliness of its operations and minimizing the carbon footprint is a continuous process at Teejay. The company has installed sophisticated equipment at its state-of-the-art coal plant to further reduce emissions, and spent over $200,000 during the year to reach even higher standards on all its discharge.
Another significant initiative by Teejay has been the world's first carbon-neutral fabric. It entered into a partnership with Carbon Consulting Company (CCC) to calculate the product carbon footprint of a selected range of its fabrics and now has been able to completely offset the carbon emissions associated with their production.
Teejay has brought together one of the leading apparel groups in the island and its client to quantify, measure and offset carbon emissions associated with a garment produced using a carbon-neutral fabric.
Teejay is continuously investing in plant modernisation and automation, outside of its core expansion. The company is installing several new knitting machines in both locations to raise its overall output. With the objective of expanding the knitting segment, the company has installed new knitting inspection machines. Plans are also in place to increase the dyeing and finishing capacity at Teejay Lanka.