Welspun Wel-Track solution for total traceability
Two billion dollar revenues by 2022 aimed
A market leader has to constantly reassess business model and performance to keep the progress path steady. In order to achieve more with the existing capabilities and to add momentum by ways of organic growth, a company needs to keep renewing focus and build efficient processes.
Welspun India Ltd. (WIL) has been ideating and creating procedures that will help the company fortify its position as a 'market leader'. And the outcome has been the conceptualisation of Welspun 2.0.
With Welspun 2.0 values at the core of its business strategy, the company aims to create customer delight through innovative offerings and build a robust and inclusive business – a business which empowers and creates sustained value for all our stakeholders.
One of the world's leading home textile manufacturers with a diversified brand portfolio anda robust global distribution network and a part of the $2.3 billion Welspun Group, WIL has a distribution presence in more than 50 countries and a strategic partnership with leading global retailers.
Welspun India is a fully integrated one-stop shop for home textiles, manufacturing towels, bath robes, bath rugs/mats, area rugs, carpets, bed sheets, utility bedding and fashion bedding. It is also the largest exporter of home textile products from India and has been consistently presented the TEXPROCIL Award for many years.
Having world-class manufacturing facilities at Anjar and Vapi in Gujarat, WIL enjoys a competitive edge due to its diversified product portfolio and innovative offerings. It has its presence in various geographical locations, including the US, Europe, Australia, Japan, China and the Middle East, apart from the domestic market.
The year 2016-17 was an eventful one for Welspun. Despite operating in a volatile business scenario, the company achieved the $1 billion landmark in the annual revenue for the first time in its history. While it maintained its dominance as a leading player in the Home Textile segment, the company undertook several initiatives in different segments of business to catalyse long-term growth. It converted challenges into opportunities to continue building a future-focused, customer-oriented and sustainable business.
Mr. Balkrishan Goenka, Chairman, Welspun Group, says: "Apart from the macro-economic issues, the year gone by also presented us with supply chain challenges. In order to align our supply chain with our growing magnitude, we have put in place an industry-defining, multi-level traceability system called 'Wel-Trak' which can trace back a finished product to its original source of raw material. Streamlining our supply chain, this cutting-edge traceability process allows tracking cotton from the farm to the store shelf using a combination of RFID, barcodes and QR Code Scanners integrated with ERP Systems".
Wel-Trak has been one of Welspun's most successful executions for strengthening of its supply chain on the structural, technological and the process fronts that too in a record time of four months. It is a state-of-the-art solution that has raised the bar for the industry.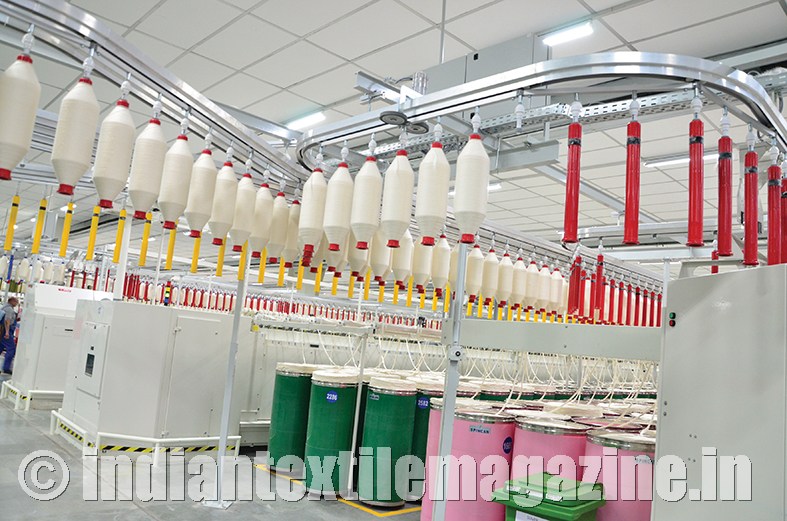 Innovation
Welspun is known as one of the most innovative companies in the home textile space. The company has a portfolio of 26 unique inventions across the globe, contributing 36% to its sales.
Welspun's recent innovation – 'Hygrocotton' – has crossed the $200 million mark, contributing to approximately 20% of the total revenues. The company also secured the 'Interactive Textile Article and Augmented Reality System' patent for its new product line in the smart textile category, viz., 'Spintales'. It has also been able to create an ecosystem comprising universities, technology partners and industry associations to continuously develop new products and processes.
Flooring solutions
Welspun's next growth engine is flooring solutions wherein the company is investing Rs. 6 billion over the two years. The products include area rugs, carpets, carpet tiles, accent rugs and wall to wall carpets.
Welspun has also forayed into advanced textiles as it sees a huge potential in this segment. It ventured into the technical textiles segment with its state-of-the-art needle entangled advance textile plant in Anjar.
The first product from its smart textile range, viz., 'Spintales', launched towards the end of the last financial year, has received good reviews. The product is a unique immersive experience combining textiles and technology.
In FY17, Welspun opened a new skill development centre which covers various aspects of textiles, engineering and other day-to-day skills, empowering youths within the vicinity. The company has also set up a sewage treatment plant (STP) that helps in conserving and recycling water, thus reducing dependency on the Narmada river nearby.
Partnership with Cotton Egypt Association
Welspun has entered into a co-operation agreement with the Cotton Egypt Association (CEA) to promote and market Egyptian cotton products worldwide. Under the agreement, the two organisations will work together to create programmes for promotion of the Egyptian Cotton logo in the retail markets across the globe.
The agreement will also help enhance the complete supply chain of the Egyptian Cotton starting from cultivation to the final product, which will also benefit the Egyptian farmer and the industry as a whole.
Welspun will invest a sum of $3 million in a stage-wise manner over the next few years to support the joint initiatives. The Cotton Egypt Association has granted the company the 'Gold Seal' certification and the right to use Egyptian Cotton logo for five years until 2022.
Vision 2022
Mr. Goenka says: "We remain fully committed to our Vision 2020 which we announced last year. Recent operational headwinds have put some pressure on the timelines for achieving these targets, and hence we have decided to rechristen our vision as 'Vision 2022'. To meet our target of $2 billion in revenue, we are focusing on new markets such as India, Europe, Japan, etc., new channels such as e-commerce and hospitality, and new products such as flooring solutions and advanced textiles. For achieving zero net debt, we are focusing on improving our free cash flows by rationalising capex through ancillarisation and optimising working capital".
The Chairman further observes: "We plan to achieve 20% of its revenues from the domestic market. The reform measures by the Indian Government will open up significant opportunities for us and our flooring solutions will add to the potential. We aim to achieve a revenue share of 50% from innovative and branded products. We hold 26 patents and plan to commercialise some of these over the next few years. We also plan to take 'Christy' global, increase penetration of 'Spaces' in India, apart from leveraging our licences. Our women employee strength is at 17% which we intend to raise to 20% in the near future".
Welspun will continue to leverage its scale to emerge as one of the world's most efficient manufacturers of home textiles. In FY 2018, the company plans to expand its towel capacity from 72,000 MT to 80,000 MT. Welspun will also invest in the new flooring facility during the year. The total capex for 2017-18 is around Rs. 7 billion.
Wel-Trak is an industry-defining, multi-level traceability process to provide consumers with are liable and quick verification tool. This tool tracks the finished products back to the raw material. With this process, the company has set a benchmark in the industry, raising the bar and setting a new standard in home textile industry.
Features of this system:
Tracking cotton from farm to factory is made possible and can demonstrate raw cotton down to seed and trace down to a farmer.
Further with Vertically Integrated Manufacturing having visual traceability markers maintained throughout, one can track the cotton from spinning to the shipping. This database is linked with RFID/barcode to ensure that information is stored for verification.
Finally at the customer/consumer level with the real-time review and 3P Audit, QR Code-based consumer level, tracking is possible at plant as well as 3P Audits. The DNA testing for Egyptian cotton is also available under this system.
Saurer Volkmann Golden Spindle Award for Welspun Group Chairman
Mr. B.K. Goenka, Chairman of the Welspun Group, was presented the Saurer Volkmann Golden Spindle Award at a special function held in Mumbai on September 29. The Award was presented by Mr. Wolfgang Leupers, CEO of Saurer Technologies, for the group's having over 20,000 Volkmann two-for-one spindles installed at its Vapi and Anjar plants.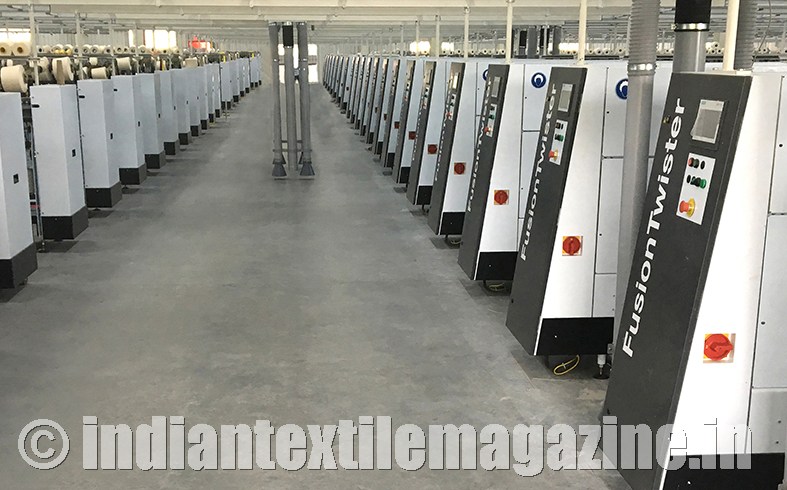 Mr. Leupers emphasized on the occasion that Welspun is one of the biggest manufacturers of home textiles in the world and started buying Volkmann twisting machines for production of quality terry towels in 1993. With the most recent addition of 39 more, the total number of installed spindles of Volkmann two-for-one twisting machines is 20,160.
These spindles not only represent machines for processing cotton fibres, but also a large number of Volkmann cabling and twisting machines for carpet and rug production.
Mr. Goenka, in his address to the special gathering, pointed out that he believes that investment in machinery of the best quality would ensure top standard products for international buyers. The long-standing partnership with the Saurer Group, especially Volkmann, is based on the trust built over the years in innovative top-class technology, machine quality and service.
Mr. Gerd Poehlmann, Senior Vice President – Sales and Marketing, Saurer Twisting Solutions, then gave details of the various models of two-for-one twisters supplied to Welspun during the past 20 years. He explained how the state-of-the-art technology and yarn geometry of Volkmann twisters help meet the quality requirements needed for the terry towel business. The latest Volkmann twisters run at top speed with the lowest power consumption, thanks to the special energy-saving spindle and pot design.