ACIMIT reports sustained rise in machinery orders
According to data compiled by ACIMIT, the Association of Italian Textile Machinery Manufacturers, the order index for textile machinery during April-June rose by 26% compared to the same period in 2016. The value of the index stood at 117.3 points (basis: 2010 = 100).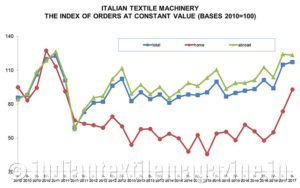 Specifically, a significant increase in orders was recorded for the domestic market where the index stood at an absolute value of 92.9 points (+66% over April-June 2016). In foreign markets, the increase amounted to 22%, and the absolute value of the index stood at 123.4 points.
ACIMIT President Alessandro Zucchi commented: "The data confirms that a recovery is currently underway for our domestic market. This is the third consecutive quarter that the order index is on the rise."