Kirloskar Toyoda-TICO joint display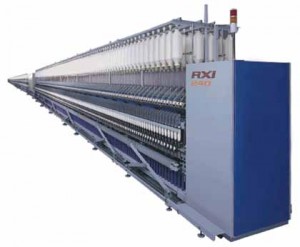 Kirloskar Toyoda Textile Machinery Pvt. Ltd. (KTTM), together with its parent company Toyota Industries Corporation (TICO), Japan, will participate in India-ITME 2012. KTTM will be showcasing its state-of-the-art technology "Super Long Ring Spinning Frame RXI240e" as well as Toyota's Roving Frame "FL200" & Air Jet Loom "JAT810".
Keeping in view the growing demand for super long ring spinning machines the world over, KTTM will be presenting the concept of 1824 spindles per machine at the exhibition. Apart from this, Toyota's "EST-II" Compact Yarn System will be available in combination with RXI240e. The proven compact yarn spinning technology from Toyota is making synergy with KTTM's strong presence in the Indian market.
The FL200, Toyota's roving frame with stationary doffer (FRD) will also be on display. Visitors can witness the live demonstration of the most intelligent and advanced roving frame with the latest 4-motor drive, servo technology and high performance processor.