Koerting's thrust on technology for market leadership
By K. Gopalakrishnan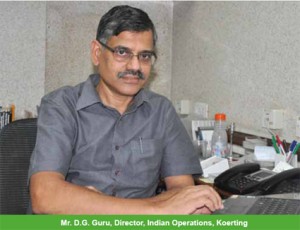 When Volvo first introduced its buses in India, the vehicles were five times more expensive than those from Indian manufacturers. Many laughed at the idea of buying a Volvo way back in 2001. In less than a decade, the name Volvo has become synonymous with luxury bus travel in India. It is not the initial investment which is important but the engineering, the quality, the operational cost and, most importantly, the total lifecycle cost of the machine which is important for a customer who is investing. Koerting machines are like the Volvos. Customers who are looking for high quality, lower operational cost, longer life and lower lifecycle cost opt for these machines.
Koerting has a rich heritage of over 140 years. Started by the Koerting Brothers, Koerting is present all over the world, particularly in well-established markets like India and China. In the three operative company divisions of jet-pumps/vacuum technology, waste gas purification / environmental technology as well as industrial and process heating / firing technology, Körting's main aim is to find advanced solutions for technical and environment-related tasks whilst, at the same time, retaining an optimum energy balance and conservation of the environment and the best possible benefits for the customer. These three operative company divisions are supported by an innovative research and development department as well as an effficial commercial set-up.
Koerting does a turnover of Euro 70 million globally out, of which 80 per cent are from exports to Asia. China, India and Malaysia are among major markets. For the textile industry in particular, Koerting offers caustic recovery plants, ejectors, multi-stage steam jet vacuum systems, scrubbers and jet aerators.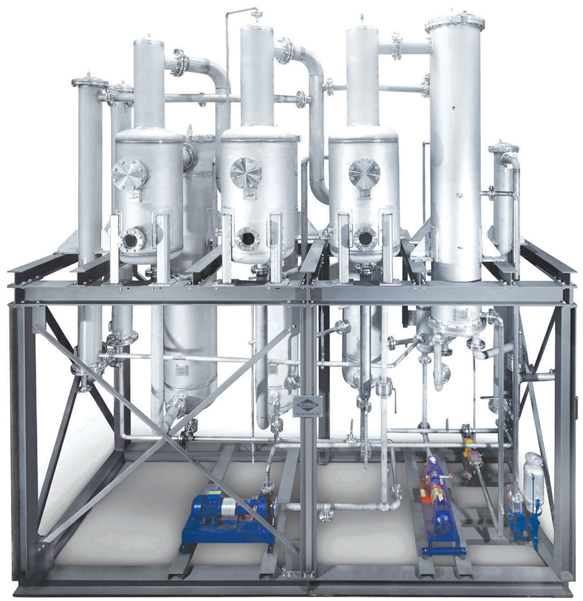 Koerting's Indian operations started in 1994. Mr. D.G. Guru, Director, Indian Operations, says: "Koerting was represented in India for vacuum systems since 1980. We started offering solutions for the textile industry in India in the 90s. That was the time when large integrated textile plants came up. Currently we have 25 installations of caustic soda recovery plants in various textile manufacturing units across India".
One of the first projects executed by Koerting in the textile industry was for Arvind Mills and later at Ashima, Bharat Vijay Mills, Alok Industries, Vardhman and many other leading names in the industry. "People who are looking for high quality, high performance machinery, particularly for customers who are producing superior quality fabrics prefer to go for a superior quality machinery and they prefer Koerting.
There is no direct comparison between the products offered by the company and those available locally. The initial investment on a Koerting product might be slightly higher. But, considering the operational cost or the total life cycle cost, Koerting machines are found to be more efficient and profitable for the customer. The payback on Koerting plants are much faster. As a result customers like Arvind, Alok, Auro, Nahar, Shahi, Vardhaman and others placed repeat orders for the company machines.
According to Mr. Guru, another important reason why customers decided to go for Koerting was the quality of lye. There are domestic machinery suppliers who offer similar machines, but there is a big difference in the quality of recovered lye. The lye that comes out of a Koerting plant is very good quality and helps improve the quality of mercerizing that ensures better finish for the end product.
The caustic soda recovery system requires heating steam and cooling water. Almost the same amount of steam which is used for recovery of the mercerising lye can be saved in the hot water generation. This hot water generation is a by-product in which the cooling water is heated up to 60°C to 80°C. The caustic soda recovery system is very energy efficient, especially when this hot water generation is integrated in the central hot water system. There is no direct contact between the heating steam and the lye. Therefore the heating steam condensate can be reused as boiler feed water without additional treatment.
All Koerting machines are manufactured in Germany with a few components sourced locally. Globally, the company has around 160 to 170 installations of caustic soda recover plants. The company is continuously upgrading its machines based on customer feedback.
Koerting's Indian headquarters is based out of Chennai and the company has sales engineers at all major locations across India. "We have a leading position in this business in the Indian market and would like to sustain that. Once a customer uses our machines, he will be with us forever. Our customers are able to see the difference in quality, trouble free operations, lesser downtime, better productivity, longer life and lower lifecycle cost of the product. We don't compromise on the quality of the product and constantly work towards optimizing the running cost. We want to be known as a technology company and a reliable partner for the textile industry and our customers", Mr. Guru adds.