Bannari Amman faring better despite odds
Bannari Amman Spinning Mills, the flagship company of the Bannari Amman Group which is one of the largest industrial conglomerates of south India, is a manufacturer of cotton yarn, woven and coated fabrics, garments, processing and is also into wind power generation. The company has two modern spinning units near Dindigul in Tamil Nadu with an installed capacity of 1,44,240 spindles, a weaving unit near Palladam, in Tamil Nadu, with an installed capacity of 135 looms, and a technical textile unit near Annur, also in Tamil Nadu with a capacity to produce 24 lakhs metres of coated fabric per annum and 32 windmills with installed capacity 29.95 MW of power. The whole of the power produced by the wind mills is captively consumed by the spinning units.
Spinning Division
According to Mr. S.V. Arumugam, Chairman and Managing Director, Bannari Amman Spinning Mills Ltd., with the revival of the dying units in Tirupur and improvements in garment export, coupled with stability in cotton prices, has contributed favourably to the textile manufacturers in the area. Since the power situation in Tamil Nadu remains the same, the company's alternate source of power from its wind mills has helped the spinning units to perform better than in the previous years, improving the overall performance of the company.
Its spinning mills produced 17,790.26 tonnes of yarn in 2012-13 compared to 14,696.59 tonnes (inclusive of purchased quantity 226.97 tonnes (56.68 tonnes)) last year and sold 17,286.64 tonnes as compared to 16,136.67 tonnes the year before. The sales include 9,337.58 tonnes of yarn in 2012-13 (8,603.05 tonnes in 2011-12) by way of exports.
The total sales of the spinning division amounted to Rs. 40,210.94 lakhs of which export sales amounted to Rs. 20,499.79 lakhs compared to Rs. 34,489.74 lakhs and Rs. 18,382.30 lakhs the year before, constituting 50.98 per cent of the total revenue.
Weaving Division
The Weaving Division of the company specializes in manufacturing wider-width cotton fabrics. In the current financial year, 61.28 lakh metres of fabric were produced and 69.58 lakh metres were sold.
The company's four windmills of 1,250 Kw each totalling to 5 mw in Radhapuram taluk in Tirunelveli district, 25 windmills, each of 800 Kw capacity amounting to 20 mw capacity in Dharapuram taluk in Tirupur district and Palani taluk in Dindigul district, and three windmills of 1,650 Kw each in Kongalnagaram, Udumalpet Taluk, Tirupur district. The total installed capacity of windmills is 29.95 mw, the power generated from these units is captively consumed by the company's spinning units. The windmills produced 618.25 lakh units of energy as against 528.55 lakh units produced the previous year.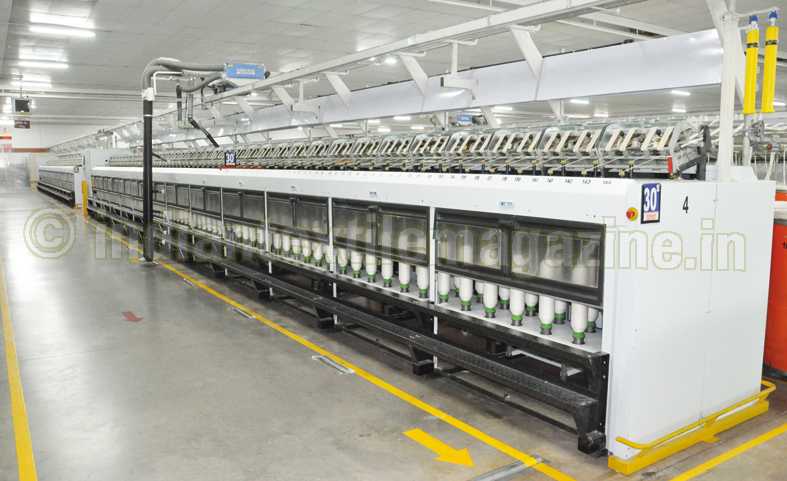 Processing and Technical Textiles Division
Bannari has installed a Gravure roll-based moisture-cured polyurethane (PUR) lamination system which can bond different types of fabrics together for advanced applications like bonding polar fleece to polar fleece, fabric with a breathable water proof membrane for military and outdoor applications, creating water-proof and incontinence bed products as well as lingerie applications. The PUR technology is the most advanced lamination technology in the world and also is the technology of choice in the Western world.
In the current financial year, 7.74 lakh metres (16.03 lakh metres in 2011-12) of coated fabric were produced and 8.81 lakh metres (16.52 lakh metres) of coated fabric were sold. Also 2.53 lakh metres of canvas were produced end 2.50 lakh metres were sold. The end products and applications of these fabrics include home textiles, upholstery, apparel fabric, performance and industrial fabric. Under the brand name "Quick dry" about 0.37 lakh metres (3.35 lakh metres) of breathable water-proof fabric were produced and 0.74 lakh metres (3.46 lakh metres) were sold in 2012-13.
The company's garments are produced mostly for the export market. Around 5.32 lakh pieces of garments were produced (inclusive of the purchased quantity of 0.47 lakhs pieces) and 5.14 lakh pieces sold. The total sales of the Garment Division amounted to Rs. 1,934.63 lakhs of which export sales totalled to Rs. 1,894.35 lakhs.
With the optimum utilization of modern machineries and the precautions taken by the company to overcome the power crisis, it is expected that Bannari Amman would be able to improve its efficiency further. The company has also been taking necessary steps to increase export sales as well as upcountry sales for improving the sales turnover.