Suryalakshmi Cotton Mills targets Rs. 1,000-crore turnover by 2014
The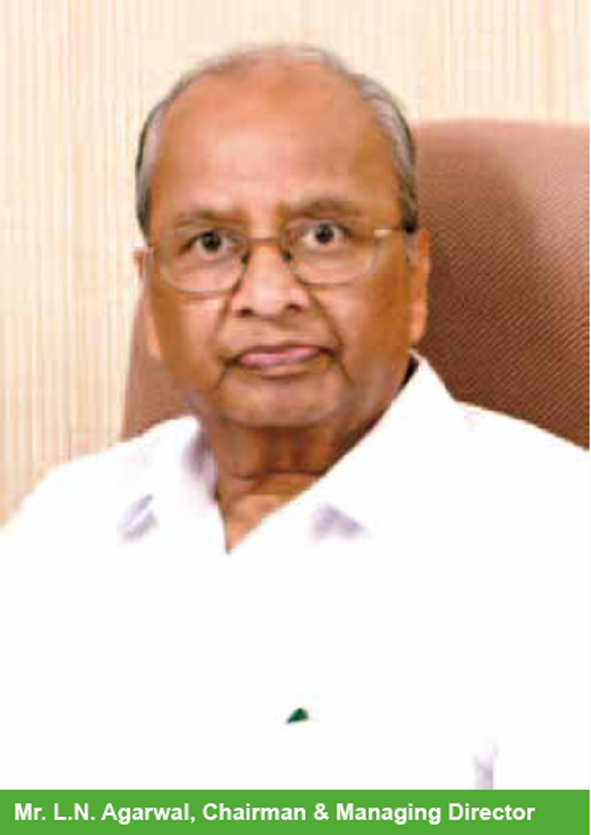 Hyderabad-based Suryalakshmi Cotton Mills Ltd., a major player in the denim & yarn industry, has registered for the year ended March 31, 2012, total income of Rs. 67,777.48 lakhs as against Rs. 61,164.64 lakhs for the previous year, up by 10.81 per cent. Net profit was Rs. 2,830.55 lakhs. In spite of the current status of the textile industry, the Board has recommended a dividend of 25 per cent.
Commenting on the results, Mr. Paritosh Agarwal, Managing Director, said: "I am pleased to note that considering the present industry scenario Suryalakshmi has emerged stronger in FY 11-12 compared to FY 10-11. We will continue to emphasize more on strategy with discipline in execution which will help us to strengthen our organization's services nationally while maintaining profitability. We promise to continue delivering maximum value to the growth of all our clients and stakeholders".
With its focus on development of high value-added denims the company has been able to maintain its profitability in spite of adverse market conditions.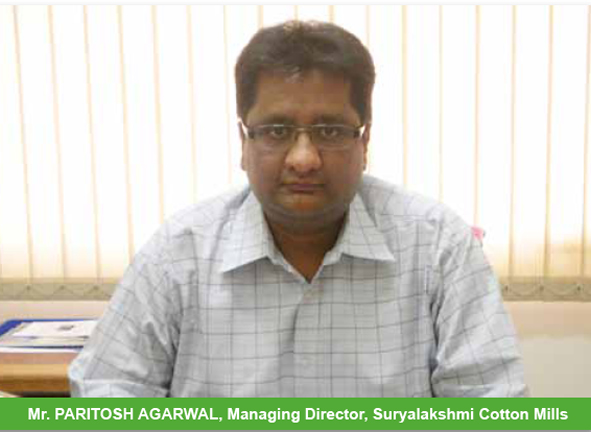 It was in 1962 that L.N. Agarwal started Suryalakshmi Cotton Mills, with 6,000 spindles, to manufacture world class cotton and blended yarns, with a vision and commitment to establish the company as a leading enterprise in the textile industry. The company has, as a result, grown multifold in just four decades and also established its state-of-the-art denim manufacturing plant having a capacity of 40 million metres per annum. Today Suryalakshmi's yarn and rope dyed denim are acknowledged as high quality products across international markets.
Suryalakshmi currently has 60,000 spindles capacity at Amanagallu in Mahboobnagar district of Andhra Pradesh and a 40 million metre denim plant at Ramtek near Nagpur. The company's subsidiary, Suryakiran International Ltd., located on the outskirts of Hyderabad, is into the manufacture and export of denim garments.

Suryalakshmi's large transnational network, backed by a strong marketing presence, ensures quality products to its domestic and international clients like Levis, V.F., Jordache and Walmart.
The company's 25 mw captive power plant at Ramtek is expected to be commissioned in June itself. The company is also planning to expand its captive spinning capacity at Ramtek. With all this, the company expects its total income to cross Rs. 1,000 crores by 2014.

The company is well equipped to make both rope dyed and sheet dyed denims. With both open-end spinning and ring spinning systems in-house, the product range boasts of 100 per cent ring, ring X OE and 100 per cent OE denim to suit the market needs.
The finishing range is from Monforts. The company has airjet looms of Nissan, Toyoto. Complete harmony is ensured not only across the width of the fabric but right through the different batches. All this is made possible with the technologically superior machinery, the skilled manufacturing team and process control systems.
The fabric processing division comprises continuous bleaching, mercerizing and the dyeing range supplemented by a quality inspection and packing range.
Yarn Division
Suryalakshmi Cotton Mills has two polyester cotton and synthetic yarn units in Amanagallu (Andhra Pradesh), with fully-integrated facilities to produce world-class cotton, polyester and blended yarns. The company grew from an installed capacity of 6,000 spindles in 1962 to 60,864 spindles in 2010. It added over 37,680 spindles in the last five years.
Over the years, the company invested in cutting-edge equipment, which translated into yarn of the highest quality.
The range includes 100 per cent spun polyester yarns, polyester cotton combed/carded 65/35 and 50/50 blends and polyester viscose yarn 65/35 blend.
The company has Trutzschler blow room line and cards, Laxmi high-speed combers, auto leveller draw frames, speed frames and ring frames. Autoconers are from Schalafhorst and Murata and the yarn conditioning unit from ElgiWelker.
With its fully integrated plant the company produces 100 per cent cotton yarn. Yarn produced is at par with international standards, achieving quality levels of Uster 5%.
Garment Division
Suryakiran International Ltd., a subsidiary of Suryalakshmi Cotton Mills, which is the second largest manufacturer of denim fabrics from India. It is backed by over four decades of experience in the manufacture of denims and yarns. Vertical integration is the norm in the textile world, which Suryakiran flaunts too.
No jean is complete without wash and finish effect. The unit boasts of world class laundry and dry process facilities which can churn out any finish in vogue on denims, like sand blasting, handscrapping, pp spray, crinkling, resin finish, whiskers, chevrons, tie and dye, tinting, localized pigment spray, grinding, damaging and spotting. The technology includes machinery from Turkey and Japan. The inputs like chemicals used in the unit are from leading suppliers like Dystar and CHT, ensuring the right ingredients.
Technology
It has an installed capacity to produce 5,000 garments per day. The garment unit is equipped with machinery from Italy, Japan and Singapore. The unit is state-of-the-art, with the maximum level of automation to ensure consistency in quality and productivity. Production is augmented with the precision CAD center for garment designing and pattern making.
The fully automatic spreader from Macpi ensures homogenous traction across the fabric width while laying the fabric. The ultra-modern cutting section ensures cutting of the lay with utmost accuracy, thereby maintaining uniformity in dimensions of all similar garments.
Belt loop making from Kansai ensures consistency through different batches. The autopocket setter unit, auto beltloop unit and the waist band attachment and decorative stitch design machine from Vibemac ensure production of identical garments throughout.