Jay Chemical Industries sales grow 10-fold in a decade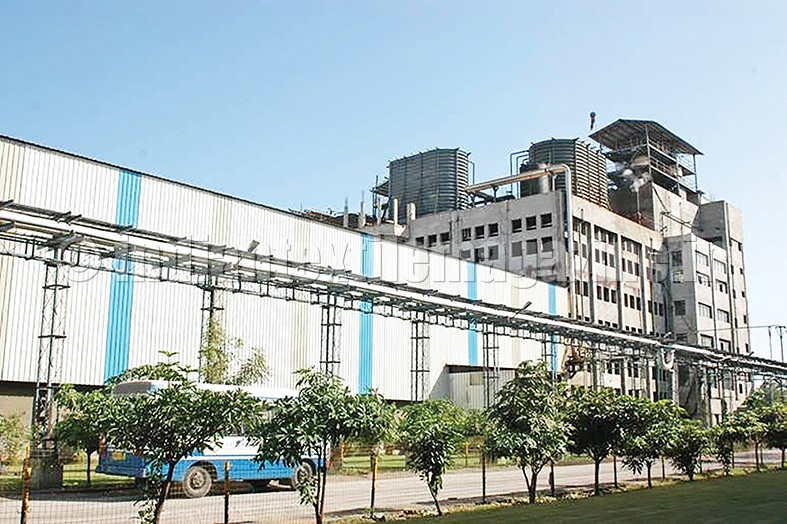 In just 10 years, sales of Jay Chemical Industries Ltd., the Ahmedabad-based textiles dyes producer and exporter, have grown 10-fold, from a turnover of Rs. 100 crores in 2004-05 to over Rs. 1,000 crores in 2014-15.
Jay Chemical Industries was set up in 1967 by Mr. Jayendra Kharawala who hails from a family dealing in dyes and chemicals for the last four generations. In those days when dyes were not produced in India, the family was representing CIBA of Switzerland in India.
Jay Chemical started off as a vertically integrated company, thus having in-house production of critical dye intermediates. Today the company is self-sufficient for about 60 per cent of dye intermediates needed for its reactive dyes production.
Said Mr. Dakshesh Machhar, Director, Jay Chemical, in an exclusive interaction with The Textile Magazine: "This vertical integration helps keep tight control over the quality of finished products, as well as we are covered by the volatility in raw materials and dye prices. All this helps us meet our customer commitments."
Jay Chemical operates two plants. The Ahmedabad plant was the first to be set up, and the other is at Khambhat, 90 km from the city, which was started in 2004. The combined dye production capacity at both the plants is 40,000 tons per annum and the intermediates capacity is of around 12,000 tons.
The main focus of Jay Chemical since inception is on reactive dyes under the brand names Jakofix and Jakazol which are mainly used in processing of cotton and cellulosic textiles. However, since last two years, the dyes manufacturer also started producing disperse dyes under the brand name of Jaylene, although production still accounts for more than 100 different reactive dyes.
According to Mr. Machhar, Jay Chemical has a global market share of five-six per cent of annual global textile industry consumption of four lakh tons of reactive dyes.
The company has been able to gain this market lead by meeting the requirements of different segments of dyes consumers like cost-conscious customers, customers who walk the middle path and even high-end textile producers who seek high performance from the dyes that they use.
For high end fabric processors, Jay Chemicals offers dyes of superior quality. Hence, despite change in process variables like time, temperature, liquor ratio, etc., the process house is still able to deliver a high level of right first time results. "This reduces the need to reprocess their products, which in turn saves energy and other raw materials and enhances the overall productivity of the process house," he explains.
China is traditionally strong in disperse dyes used for synthetic fabrics, while India has been strong in producing reactive dyes. Most of the reactive dyes produced in China are consumed in the local market. However, India is not able to export significant volumes of reactive dyes to the China due to the existing tax structure which makes the Indian products relatively less competitive.
Jay Chemical also produces textile chemicals under the brand name OXXI.J for pre-treatment, dyeing and finishing. It has also a manufacturing facility in Germany to produce digital textile printing inks, which again is a fast emerging technology for textile printing.
Jay markets digital inks under the brand name of Antelos at various textile hubs across the globe. It is an OEM to a few digital machine manufacturers who also service the digital inks replacement market. The base for digital inks is produced in India and is shipped to Germany for further conversion into inks.
Currently Jay Chemical exports to over 40 countries, including most of the important textile centers around the globe like Turkey, Pakistan, Bangladesh and Central American countries, and derives 60 per cent of overall revenue from exports.
Considering that dyes production generates pollution, Jay Chemical has introduced systems to ensure that the negative impact on the environment is reduced to the minimum. Products from Jay Chemical meet the regulatory ecological requirements of most of the apparel retail brands and also governments.
The company has invested in technology that ensures that the waste generated at the production stage is converted into commercially viable bi-products, thereby reducing the impact on the environment. It is also designed to recycle and reuse around 70 per cent of waste water.
Jay Chemical is also a member of the Switzerland-based Ecological and Toxicological Association of Dyes & Pigments (ETAD) ensuring its products meet ETAD mandated criteria. While its products are certified by GOTS and meet the Oeko-Tex 100 Standard, its plants are ISO 9001-14000 certified. They also offer solutions to fabric processors by offering dyes which need a lower amount of chemicals like salt, which, in turn, ensures that the waste water generated is of lower TDS. The other benefits include lesser washes or washing at lower temperatures, which translates into savings of time and energy for the end user.
"Alongside of staying focused on core principles, commitment to our buyers is the winning formula for Jay Chemical and is the main differentiator. Adhering to quality and following ethical practices enable us to work with our buyers on a long-term basis," states Mr. Machhar.
Jay Chemical has a dedicated R&D and customer service centre known as Vortex which employs around 35 persons. One division of the R&D facility continuously helps improve the production process, increase energy efficiency or reduce waste for their plant. The second division works on developing new and innovative products, keeping in view the market requirements. The third works on improving processes for its customers.
According to Mr. Machhar, 2014 was quite a challenging year as the industry in general faced environmental issues. This, in turn, disrupted production at many plants across the globe, leading to shortages of intermediates and finished products. This led to a major volatility of prices. "But, despite these challenges, we almost operated flawlessly and tried our best to first support our existing clientele by honouring the already signed contracts, and refrained from any speculative short-term advantages," he discloses.
The world market for dyes and pigments is around $15 billion, and for reactive dyes, the main consumer is the textile sector. Based on the growth seen in the last decade in Asia, Jay Chemical expects the growth trend to continue for the next 10 years.
Meanwhile, global apparel sales are projected to grow at 4 per cent per year for the next decade. However for India, China and Brazil, it is forecast to grow at 8 per cent or double the global growth rate. So, Jay Chemical foresees higher demand for its products in these regions.
Jay Chemical is gearing up to grab new opportunities by setting up a disperse dyes plant which is expected to start commercial production in 2017. It is also revamping its existing distribution channel in India by setting up warehouses close to textile hubs.
By setting up warehouses, Jay Chemical hopes to meet customer demand faster and plans to deliver orders in less than 24 hours. The current agents network will exist, although their role will be to facilitate new business generation and maintaining close proximity with customers. The main objective at Jay is to remain connected to customers through its vast sales network.